Not even worth its own post, but... Augh. Everything I've been trying to write hasn't been shaking free of my mind, and all this doodling isn't helping it.
Some doodles of Heiderich and Noa I slapped a few coats of airbrush on:
EDIT- First Version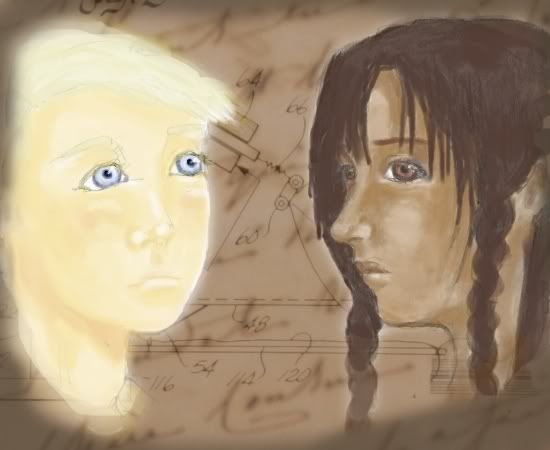 I added more, background, fixed eyes etcetera.
I remember now that I haven't always had the privelege of adjusting the angle of an LCD monitor when the colors aren't right, and I see that I painted Alfons way too pale. D: I'll have to go back in and darken him a bit. Maybe add some blush and whatnot.
Also! I now have a digital camera, thanks to generous siblings and gradumatation. I can take pictures of my larger artworks, once I just figure out how to hold the camera steady and not make it blur. <3 (Totally un-fandom related, this is a painting I did today and out of maybe 20 shots,
this
was the least blurry I could get it.)